Early care and education providers are re-entering their classrooms and considering how to make them safe, welcoming places for young children. The staff at the Early Childhood Center at Brooklyn College transformed their classrooms in 2017 from traditional early childhood environments to minimalistic, child-led, sensory rich spaces. Karina Casillas, a pre-school teacher at the Center and Colleen Goddard, the center's educational director, joined me in conversation about how to approach the challenge of classroom environments post-COVID.
Creating a "Yes Environment"
Helen: What have you been thinking and feeling about reopening?
Colleen: [One of the ideas we've been discussing as a staff at the Brooklyn College Early Childhood Center is] … how we are worried about creating a "No environment" when all along we've been trying to create a receptive, "Yes environment" – "Of course you can touch that, of course you can give her a hug, of course you can hold my hand." And now it's, "I see you want to be close to your friend on the rug but we can't right now." Even age-appropriately, how to children comprehend that? Do they comprehend it as pure rejection or as "oh yeah! That's right! Right now you have to protect yourself and me."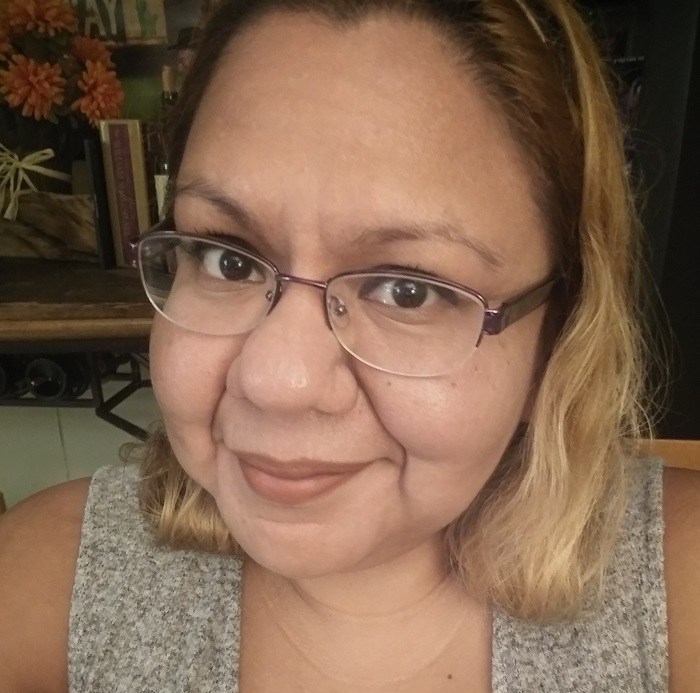 Helen: That framing of the "Yes environment" is really helpful. How do you keep that "yes environment" for children's mental health? You don't want them to internalize that anxiety.
Colleen: I imagine there might be an experience of anxiety right at the door as we welcome children and families back to the center. We will be required to check temperatures, and engage in an intake survey which involves a lot of questions. This is to ensure a strong health and safety protocol.
Karina: Especially for someone like me who's a big hugger, it's going to be hard. What do you do instead? We can practice the "self-hug" perhaps.
The Purge
Helen: This whole question of classroom environments as we are coming back is super important for teachers. I know a lot of teachers are in their classrooms right now wondering, "How do I make this a 'Yes environment'?" or "How can I make this an appropriate early childhood environment as much as possible given the new guidelines?"
At Brooklyn College Early Childhood Center, you engaged in a process of transforming the classroom environments in the summer of 2017. I thought it might be helpful to revisit the way you originally approached these transformations and to think about how those principles might be applied as you are thinking about moving into the next environmental challenge. What were the steps of that process?
Karina: 2017 was the big transformation, but that's not where it began. It began with my colleague Kim and me, two or three years prior to that. We had our first experience working together and we were placed in a classroom that previously belonged to another teacher for a long time. At the moment we were excited to start our year. We realized pretty soon we had a group of children with a lot of social/emotional needs and it was a very challenging year. We noticed the children were very overwhelmed with the abundance of toys and materials, lighting, everything! It was like a traditional classroom with so many things in it – it was too much! It was overstimulating the children. After that year, we started taking away little things here and there. In retrospect, we realized it is too much for any child first coming into a classroom. They don't know where to focus their attention and everything is a bright color and there are tons of baskets with different things. Even for a teacher, it can be overwhelming, because half-way through the day everything winds up on the floor from all these different baskets.
When we did the big transformation, that required the big purge, as we called it. It required taking out everything that we had in the classroom, in the closets, on the shelves, and really asking ourselves questions such as, what value did they bring? If we didn't have this, what would we use? What do we use these for? One-to-one correspondence? Well, if we didn't have these what would we use to do one-to-one correspondence? We had baskets and baskets full of colorful little bears, and animals of different colors and they were all the same thing. Piles and piles of things. And that's all it comes to – things. And there's no meaning behind what's there.
…Even the example of the one to one correspondence – to return to the bears – I observed one day this little girl during snack time opening up her napkin and put one piece of her cheese on each of the squares of her unfolded napkin. We've got all these baskets filled with plastic little toys yet there she was doing one to one correspondence with her cheese. Children will find a way – you don't have to give them everything. They will find a way. I think taking away things, it's strengthening.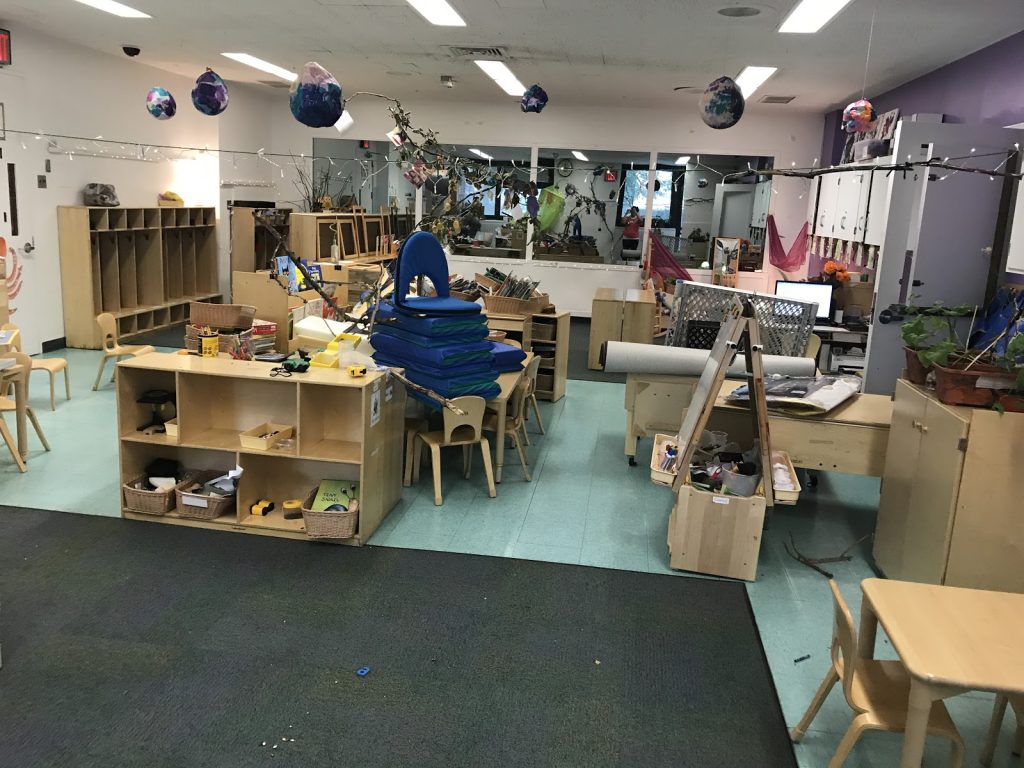 Colleen: I think that's a big part of what you and Kim, did, Karina, is [that] you really looked at the materials through the lens of intentionality. Do we have it only because it was there last year? Do we have it because it was in a catalogue and that's what we're told we're supposed to purchase and buy and have available for children this age? Or are we really going to think about trusting our lived experience with children, and what they are drawn to and why they choose specific items, objects or materials. Children can be in a room with 25 different objects, and yet they are still drawn to the shadow, the natural shadow on a wall that no one bought, and yet that's still where the interest and entry goes with wonderment.
So that's what I think you and Kim did, being so mindful of aesthetics. You brought in the natural world. You brought in plants. You brought in scents. Eucalyptus and lavender that are healing for the lungs. You looked at spaces and places in the classroom from a minimalistic point of view. But you also looked at spaces that could activate interest and dialogue. Karina brought a huge tree branch. Could we do that now? I don't know, but maybe natural materials murals could be made with contact paper and it's up on the wall and still acts as a provocation and wonderment – a place for the eyes to relax.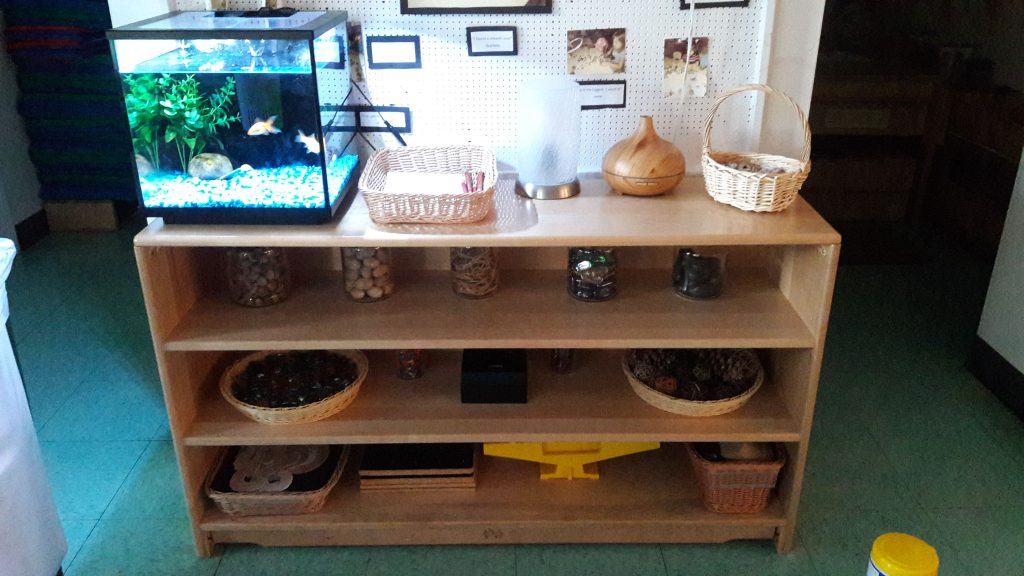 The Sensory Experience of the Environment
Karina: One of the other things we noticed – that could be really useful now – was that we needed to center our transformation around providing a multi-sensory experience for the children. Especially now going back, children can't touch everything, but there's a feeling you can create going into the classroom. For example, one year we were working on the light unit from the DOE Units of Study and we decided to have a lunch by flashlight. The children loved it. It was something extra special. And then they asked us for more lunches by flashlight. And then after rest time we would turn on the lights on one side of the classroom first and leave the other side off. We noticed that light played a very important role in how children interacted with the classroom. We noticed during those lunches by flashlight, there were more conversations going on, they were interacting with each other. It centered them…. When we went to visit [another center], and we saw the lighting that they used, it was like an a-ha moment.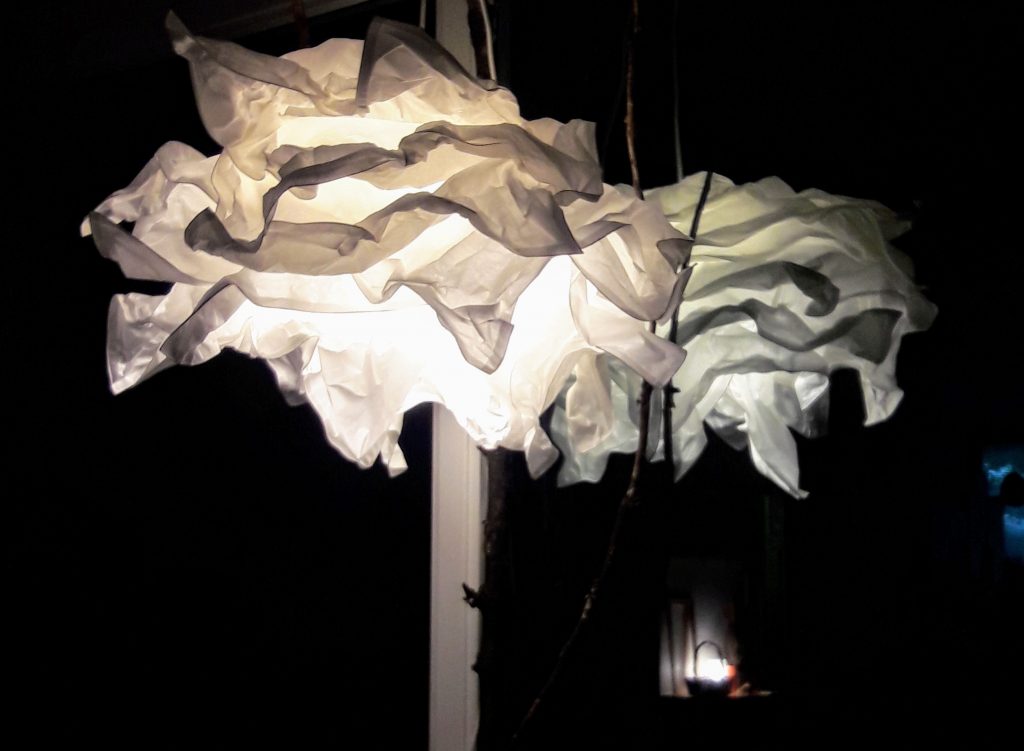 Another part of our transformation was celebrating the sense of smell as a provocation, inviting relaxation and calm in the classroom. When we made our transformation in 2017, we were allowed to get diffusers, in which we use lavender or eucalyptus. Prior to that we used diluted lavender oil in a spray bottle and just sprayed it around the classroom. Before that we just put lavender in our hair to keep the frizz down and kids thought it smelled nice – we knew after rest time everyone would want a little spritz of lavender oil.
Karina: [The picture that you shared of the classroom] made me feel a little sad to see the children all separated. I thought, this is what your classroom looks like if you don't do anything to it; it's like a blank canvas if you take everything out. I saw the little girl with the mask with her Snoopy shirt, and she's looking at something – her eyes have gone somewhere else. And that's something that happens with children – they're just lost in the moment. If you are able to provide them with something beautiful or soothing to look at then their experience of being lost from the crowd is something different. Perhaps some twinkle lights or some plants or a branch. Just something from the natural world – not made out of plastic – it gives her something beautiful to look at.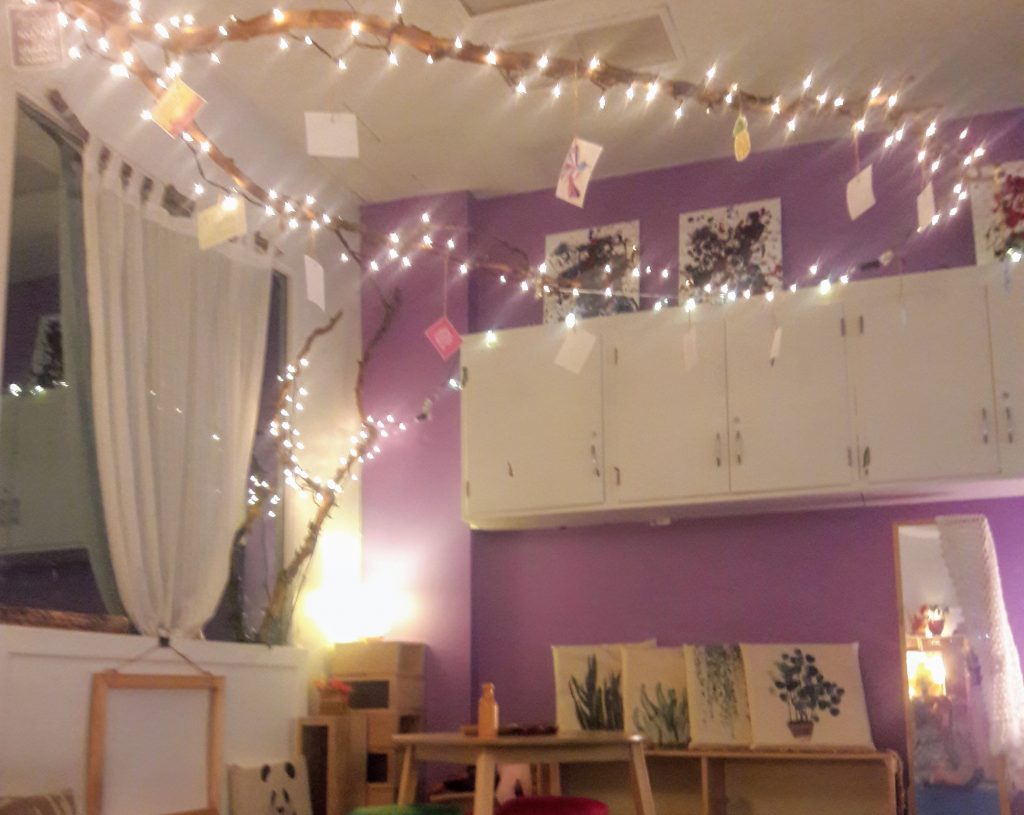 It makes me think of the book When Sofie Gets Angry, Really Really Angry, she has all these emotions and she goes off into nature, and that's what she sees – the calming of nature. Children's minds get lost sometimes, their minds wander – if their eyes gravitate toward something positive or something beautiful then maybe that moment will soothe them and bring them back. And that's what we aspire to do in little bits here and there all over the classroom, to inspire beauty. It's a feeling more than anything.
Karina: Talking to my friends who have children, particularly toddlers and in Pre-K after the shutdown, I would see them turning their homes into Pre-K classrooms and getting all the toys and materials and I just thought it was funny. I told my brother that everybody's turning their homes into"classrooms" where we've made a career out of turning our classrooms into a home. I thought, just take out the pots and pans and use what you have at home.
Letting the Children Create the Room
Helen: Is there anything you want to add in terms of the values that guided that process?
Karina: It was very self-reflective and guided by the children. I think it's a humbling process. We start off with a blank canvas, but we do it knowing that we will not guide the process. We do not know what this room will turn into until the children come in. They have the power to change everything. They will create the classroom, not us.
Colleen: Trust, self-reflection, intimacy, connection, and also building an awareness – I heard this [statement] years ago that "the environment is a third teacher." I didn't really understand what it meant mentally – what do you mean the environment is the third teacher – but then I really did realize that once the environment is transformed, children have the ability to transform whatever it is that we present to them in such a beautiful way, and there is such deep learning from that. It doesn't have to be predetermined what you are going to teach a child today.
Helen: It makes me feel more optimistic to hear you say that. I think that the children are going to solve this.
Karina: I think the beginning will be scary. It'll be scary because when you first walk in, you're always going to be thinking about the virus. You can't see it. The virus, the virus, the virus – is it in here? But I think we will find a way to do it together.
Please join us next Monday for Part 2 of this interview.
Helen Frazier is the Institute's Director of Early Childhood.