Coaching and Responsive Engagement Program (C.A.R.E.)
Supporting informal child care providers caring for children under 5 years old through group learning and individualized home-based coaching.
About the CARE Progam
The needs of informal family child care providers present rich challenges and opportunities for service providers and policy makers in New York City. The Institute is piloting the CARE Program to design and test a more robust and responsive approach to the dynamic needs of informal providers and support the important role they play in the continuum of care for young children.
The Coaching and Responsive Engagement (CARE) program is an innovative professional learning and coaching model designed to build and enhance the capacity, knowledge and skills of informal home-based child care providers caring for children birth to 5 years old in New York City. Through this program, the Institute endeavors to more directly address the complex needs of informal providers by recognizing their unique motivations, acknowledging the barriers that limit them from accessing support, and addressing the needs that must be met before behavior change can happen. Through the Institute's years of work on the Informal Family Child Care project, it has identified several core tenets that inform our approach to successfully engage and support providers in this and all of our programs. They include:
Respect the individual provider and their role
Recognize and engage providers on their own terms
Provide tools, resources and support that makes providers work more fulfilling
This program is generously supported with a grant from the New York Community Trust. Read more about the C.A.R.E project on the Institute Blog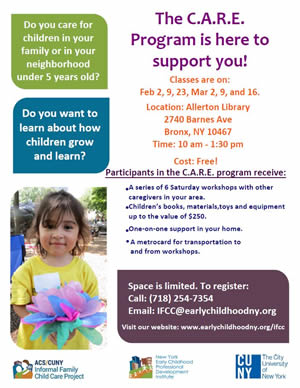 Interested in Participating?
The CARE program is currently recruiting informal providers in Brooklyn and the Bronx to participate in future groups. Call or email us to find out about participating:
(718) 254-7786 | ifcc@earlychildhoodny.org
You can also download our flyer to learn more.
Sesame Street in Communities
Profile Video
Sesame Workshop invited IFCC to help create a training video about Friend, Family and Neighbor (FFN) caregivers for service providers and others, as part of their Sesame Street in Communities (SSIC) initiative. Check out the video to learn more about FFN caregivers and our work.
Read more about the video on The Institute Blog