Early childhood educators are mostly women and many of us are mothers or caregivers for elderly relatives, or both. After a December jobs report in which all of the jobs lost were women's jobs, with women losing 156,000 jobs and men gaining 16,000, there has been more discussion of the experience of working mothers during the pandemic. Between January and December 2020, nearly 2.1 million women left the labor force, including 564,000 Black women and 317,000 Latinas.
My friend, a healthcare professional with two kids in remote learning, sent me a text this week: Let's talk about how []'d up it is that I am looking forward to feeling like [] from my second vaccine shot this week because it means that someone else will take care of maybe like 30% of everything else that needs doing in the span of a day. The moms. We are slowly breaking. She knows she is lucky to be vaccinated. So many childcare workers in New York have not been able to get appointments. They are not free to refresh the vaccine hub all day.
This year at the Institute, we have said good-bye to two valued team members who left to care for their young children. So many of our coachees described impossible, heartbreaking decisions as they chose between their families and their careers, between their own children and the children in the programs they cherish. Is my child old enough to stay home alone? Will I bring the virus home? I'm so close to finishing my degree -how can I stop now? How does it make sense to try to teach toddlers virtually while my own children are right here, unable to learn without my support? Everybody needs me all of the time.
Chalkbeat captured the experience of NYC moms: In Their Own Words: NYC Moms Share Stories of Remote Learning and Job Loss. One anonymous mother described what the loss of childcare meant to her: They used to have daycare, and I would work then pick up at their schools. I was working at the beginning. Then when they decided to go online, everything got complicated. April was the last month that I worked. I do miss my work, I don't want to be home all day. It's sad to be at home all day in the four walls. I personally dream of afterschool that is not, "Play Minecraft quietly for the next four hours."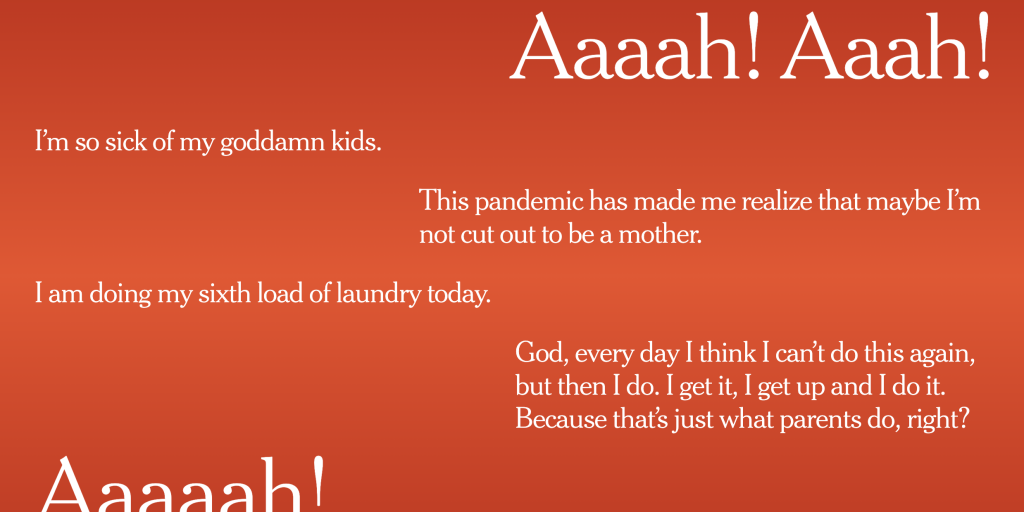 The New York Times published a series of articles, Primal Scream, last week, focusing on the impact of the pandemic on working mothers. It is sad to read, and so resonant. It makes you remember how important it is for mothers to have a childcare provider as a partner – the partnership is critical to the well-being and safety of the whole family. It is the secure base. One of the articles, Three American Mothers on the Brink, described the experience of Mercedes Quintana, is a mental health professional (Biostable) in a mental health crisis. Her experience reminded me of the childcare professionals in a childcare crisis. Childcare workers need partners, too.
The childcare crisis for working mothers during the pandemic has grown to such an extent that even Trevor Noah has jumped in. As he helpfully points out, women do not have to be pushed out of the workforce. This is not inevitable. The government could fully fund paid family leave and universal childcare. It's a strange and violent society that doesn't care for its children. I hope we come out of this long national time-out very, very different.
Helen Frazier is the Institute's Director of Early Childhood.