Governor Andrew Cuomo recently announced that New York State will administer nearly $1.1 billion in stabilization grants to support child care providers and enable New York's families to return to work.
The New York State Office of Children and Family Services (OCFS) is now accepting applications for the Child Care Stabilization Grant. The Grant aims to provide financial relief to child care providers to help cover unexpected costs associated with the COVID-19 pandemic, and to help stabilize their operations so they may continue to provide care. To streamline and simplify the application process, OCFS is offering a single online application.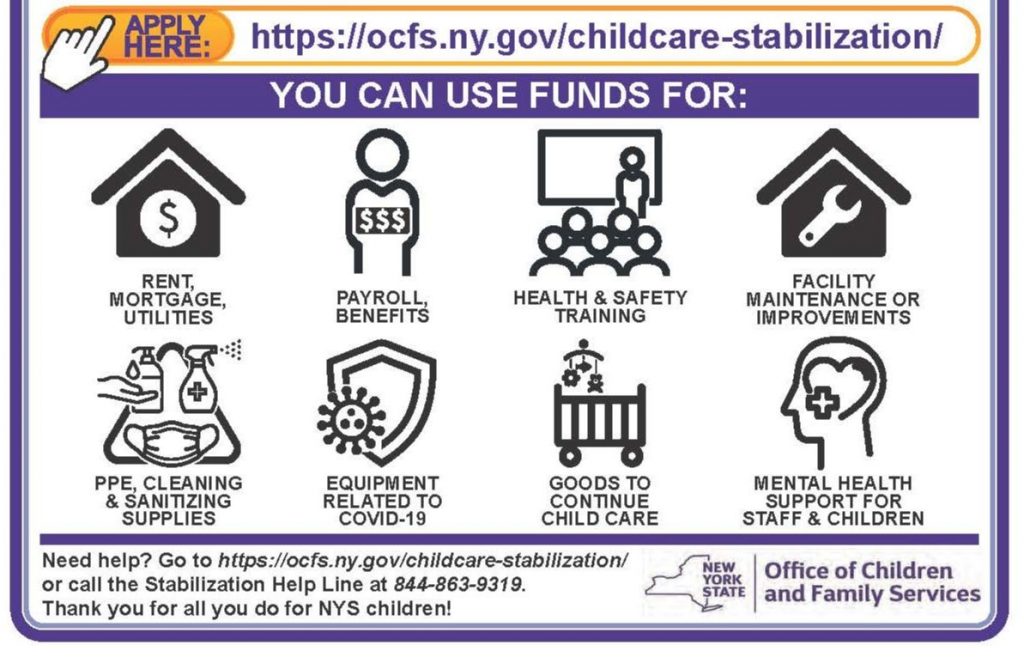 Eligibility: To apply for a grant, child care providers must meet eligibility requirements, be in good standing and fall within one of these categories:
OCFS licensed programs (DCC and GFDC)
OCFS registered programs (SACC, FDC, or SDCC)
NYCDOHMH permitted programs (Article 47)
Enrolled Legally Exempt Group Programs (enrolled with enrollment agency)
The deadline to submit the stabilization grant application is Tuesday, November 30, 2021
Check out the links below for more information.
Visit the OCFS website to learn more about the eligibility requirements and view an application walkthrough.

Questions?
Call the Stabilization Help Line at 844-863-9319