The New York Early Childhood Professional Development Institute, in partnership with the Bank Street College of Education, recently completed a survey to understand the impact of the COVID-19 pandemic on New York's early childhood workforce. The survey included early childhood program leaders, teachers, and family child care providers. Over 3,000 individuals who are members of the state's Aspire Registry responded. The survey sought to provide a descriptive snapshot of the workforce during the pandemic in order to stimulate dialogue to help the field navigate this crisis.
Since March we have seen how public funding of child care can and does have a significant impact on the early care and education system and its workforce. This is especially the case as we look at how different early care and education programs across the New York State have had to respond and adapt to the COVID-19 global pandemic.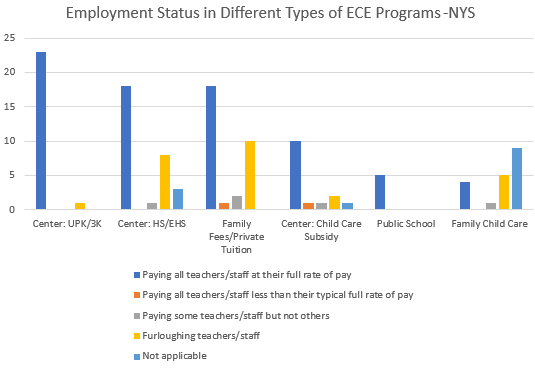 When we launched our survey to learn about teachers and leaders' experiences during the early stages of the COVID-19 pandemic, we were interested in understanding the influence of a program's setting (e.g., home, center, and public schools) and funding sources (e.g., Head Start, PreK, and family fees). Our results pointed to interesting findings that showcase the tremendous value of policy and public investment in ECE that warrant discussion. Specifically, we learned that:
Programs that were independent and reliant on family fees tended to be closed or had furloughed educators whereas publicly-funded programs – PreK for All, Head Start, and programs with child care subsidies – were "open" and many continued to serve children and families remotely.
A significant number of educators that worked in programs providing remote instruction – which was required for many publicly-funded programs — experienced high levels of stress and emotional strain, more than their peers who didn't work.
Family child care providers who care for children in their homes are among those most impacted while they have remained open to care for children and families who need in-person care. These early care and education providers face tremendous financial insecurity and stress.
So, what do we make of this? Public investments in ECE, and the decisions made by our City and State partners to maintain funding during this time, were essential to sustain some of the caregivers who play essential roles in our community. However, these programs with stable public funds represent just a portion of the more than 15,000 licensed child care centers in the state. Thousands of young children, their families, and early childhood educators are left behind. When these inequities persist across the city and state, children and families suffer and so does the workforce.
This week, the Alliance for Early Success published Build Stronger: A Child Care Policy Roadmap for Transforming Our Nation's Child Care System that makes bold and actionable recommendations for a child care system that will support a robust economy and meets the needs of children, families, and early childhood educators. The report's short- and long-term strategies would create a system that is centered on equity and advances quality. It's ECE workforce recommendation include a call to:
Secure public investment specifically for educators' compensation and benefits.
Build educators' power through a unified voice.
Establish policies tailored to support home-based providers' practice.
Invest in educators' career and educational advancement.
We know our partners are deeply invested in doing their best to ensure young children, their families, and early childhood educators receive support during this unprecedented pandemic.
We also know that in order to stabilize child care and generate economic recovery, substantial public investments in the child care systems are needed. What ideas do you have for rebuilding a stable ECE system for the future?
Kate Tarrant is the Institute's Director of Research and Evaluation.