Early educators and parents know that young children thrive on routines and continuity and they work hard to ease transitions, whether it is transitions into and out of early education programs or transitions within a day. We explain to children what will happen next and help smooth the transition as much as possible. But the uncertainties of the new school year leave us with few answers to our children's questions right now. For weeks this Spring, my five-year old asked me the same question about her upcoming transition: "When I go back to school, will it be kindergarten?" As this question was answered, the new question has become "What will the first day of kindergarten be like?" While this is a normal question for the summer before school starts, my answers are far from typical this year and are filled with uncertainties.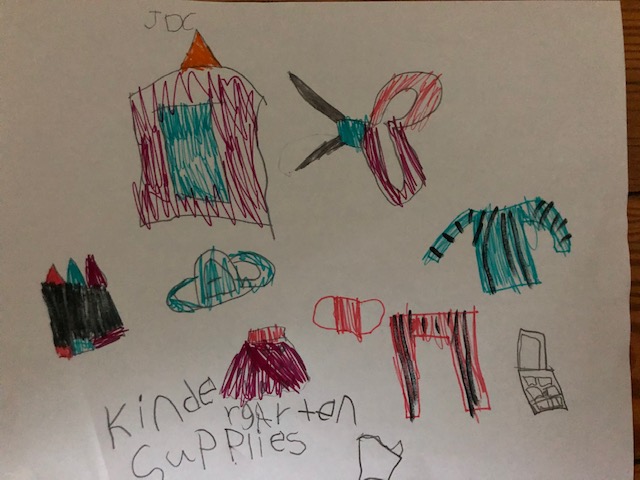 The reality is that most children will be entering new programs, schools and classrooms (both virtually and physically) as school begins, and we will need a focus on supporting families during this uncertain transition. As an education researcher studying the transition to kindergarten and a parent, these issues are uniquely personal this year.
While we need new and innovative ways to support the transition to school this year, there are some evidence-based strategies that have shown positive results for children and families.
My research and others have found that children have more successful transitions when the adults in their lives are connected with one another. Children who are entering kindergarten and other new early education environments this school year will have faced unprecedented disruptions in their school and home lives in the preceding months, making it more important for educators and families to work together.
What happens when early education programs and elementary schools coordinate efforts?
In some communities, early education programs and elementary schools collaborate on various initiatives. For these communities, now is an important time to continue collaborations and ensure that specific plans are in place to coordinate efforts around the transition to school, such as jointly registering families, transferring child data, and reciprocal sharing of information around programming and curriculum.
Research has shown that when first year teachers have information from children's prior setting—both information about programming as well as information about the specific child—children have better adjustment, academic skills, and social-emotional skills in the first year of school. Coordinated efforts also support families as early education programs can serve as a trusted bridge to the new school environment. This type of collaboration can be time intensive and requires strong relationships. In communities where these relationships need to be built, this is a critical time for early education programs and schools to begin developing them.
Understanding that transferring records from prekindergarten programs to kindergarten may be difficult this year, the New York City Department of Education has put out a guide for how early education programs can use an End of Year Questionnaire with Families to help facilitate the sharing of information between families and kindergarten teachers. Their "Supporting the Transition from Pre-K to Kindergarten Remotely" guide can be found here.
What is the role of families?
School entry is a critical moment to begin these partnerships and to identify needed supports. For some families, this will mean direct supports for children, such as special education services. For others it will mean comprehensive family supports, including connections to food pantries and social services. And for all families, teachers will need to know whether and how virtual learning can take place at home if needed, such as internet and device access and whether or not there is an adult in the household who can help the child with learning activities at home.
Transition practices such as parent orientations have been shown to lead to better academic outcomes for children in kindergarten, suggesting that helping parents understand the curriculum and how to support school work can be beneficial. While these traditional events may be cancelled this year, teachers can focus on other ways of building relationships with children and their parents. For example, virtual home visits have the potential to build relationships between teachers and families.
There are many resources available to educators on supporting the transition to kindergarten, such as those through the the National Association for the Education of Young Children's Transitioning to Kindergarten guidance and the Early Childhood Learning & Knowledge Center (ECLKC)'s Family Engagement and Transitions resources, and there will likely be many new and innovative practices and resources emerging from the field this year.
My five-year-old's questions remind me that while adults are making big (hopefully coordinated) plans, we need to follow the lead of our children. There is no doubt that the transition to school will look different this year. Yet, if connections across systems are prioritized and families are viewed as critical partners, we can build best practices during a time of crisis that can help carry us into the future.
What new ways are your programs and schools supporting the transition to school this year for children and their families?
Kyle DeMeo Cook, PhD, is an Assistant Professor in the School of Education at St. John's University and a mother of three. She is a 2020 Early Career Scholar for the Institute's NYC Early Childhood Research Network.