I am an early childhood teacher and two and half years ago I became a mother of a premature baby (32 weeks). He was a brave little baby, learning from day one all the new tasks the doctors asked for: gaining weight, breathing without assistance, eating/drinking, and regulating his temperature. Nurses and doctors were providing a safe environment for him to grow, and my husband and I helped him doing "skin-to-skin" as part of what we understood was a key component of his development and well-being. We were lucky that he just needed time, because as one of the doctors said, he was an A + student and he was doing just fine.
The challenge of being a mom of a preemie baby came later. I was told the very first day that I needed to correct for his age, and that he would be 8 weeks younger than his actual age until the age of two. With my background in early childhood, I had set in my head a series of milestones for my son to accomplish every month. In my head, he would soon be smiling, holding his head, holding objects, following my eyes, responding to my voice. In a few months, he would be able to sit on his own, crawl, stand and cruise around the house, and finally walk.
He took his time, he developed perfectly within his corrected age and graduated with honors from the preemie program at his second birthday.
Within the process, I struggled every month not knowing exactly how to help and support him in balancing what he was doing, what I wanted him to do, and what was developmentally appropriate for him. Even with all the knowledge in early childhood and child development, it was time for me to ask for help. I applied to the Early Intervention program, and within two weeks, three wonderful women gave me the calm I needed. They helped me to look at his development from a place of wondering and reassured us that he was doing just fine at his corrected age. It was the first time someone made me think about what Santiago liked to do. They all agreed that my son did not need early intervention, he just needed time to flourish.
The reason why I am sharing our story is because the revised Early Learning Guidelines is a wonderful resource for educators and caregivers to understand child development from a place of wondering. When I understood my son's development from this perspective, I learned how to observe him in a different way. I noticed how much he enjoyed being in the stroller or carrier and not sleeping in them. He loved going out to the park and instead of encouraging him to take a nap, we spent time seeing birds, ducks, and trees. The ELG invites educators to do the same and to be intentional about their teaching, incorporating The Cycle of Intentional Teaching.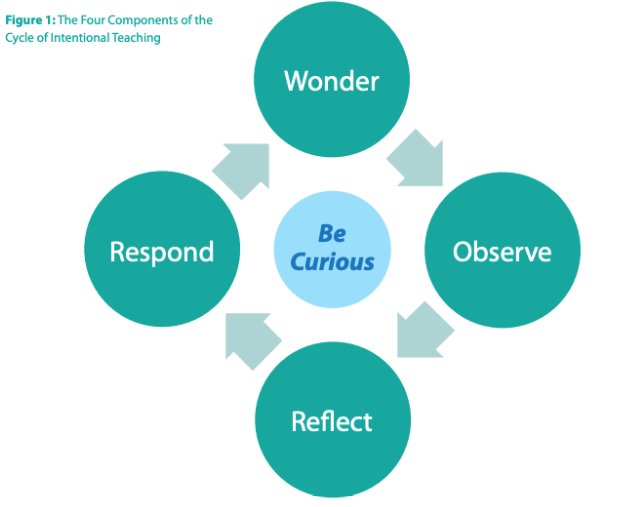 When educators are intentional and curious about children's development, they are able not only to observe children from a different perspective, but also include reflections about those observations in order to respond in meaningful ways. The ELG has different activities and suggestions on how educators and caregivers can support and respond to young children in all areas of development (approaches to learning; physical well-being, health, and motor development; social and emotional development; communication, language and literacy; and cognitive development). As educators and caregivers become familiar with the ELG, and with developmentally and culturally appropriate practice, they need to remember that before we set expectations on what children need to learn and do, we need to be curious about what we will observe and respect who they are. Remember, "the Early Learning Guidelines are not standards. Standards are student learning expectations: concepts children should understand and tasks children should be able to do as a result of skilled instruction".
What are some moments of wonder you have had when working with young children? What are you curious about the child/children you have in your life?
Tatiana Bacigalupe is a Screening and Assessment Specialist at the Institute