It is with profound sorrow that I write to inform you that Liege Motta passed away peacefully on Nov 22, 2019, surrounded by her family.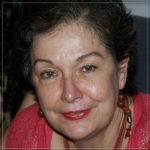 Liege was loved and respected by many. Through her active Facebook account, she often reminded us all to act on our commitment not only to children, but also immigrants, women restrained by antifeminist societies, and for governmental transparency.
In the world of early childhood and teacher education, her expertise was put to good use. Liege worked at Bank Street College, Hunter College, and The City College Center for Worker Education, and the NY Early Childhood Professional Development Institute. For many years she was a curriculum developer and mentor at Columbia University's Medical Center Nursery, and at NYC public schools during the rollout of universal pre-k programs. Her interests in early literacy, authentic assessment, and the arts, including her participation in NYC choral groups, went hand-in-hand with her love for teaching and her approach to life-long learning.
She was a cherished colleague who will be missed.
A memorial in her honor will be organized at The City College Center for Worker Education in the spring of 2020. Date and time TBA.
Vicki Garavuso
City College CWE